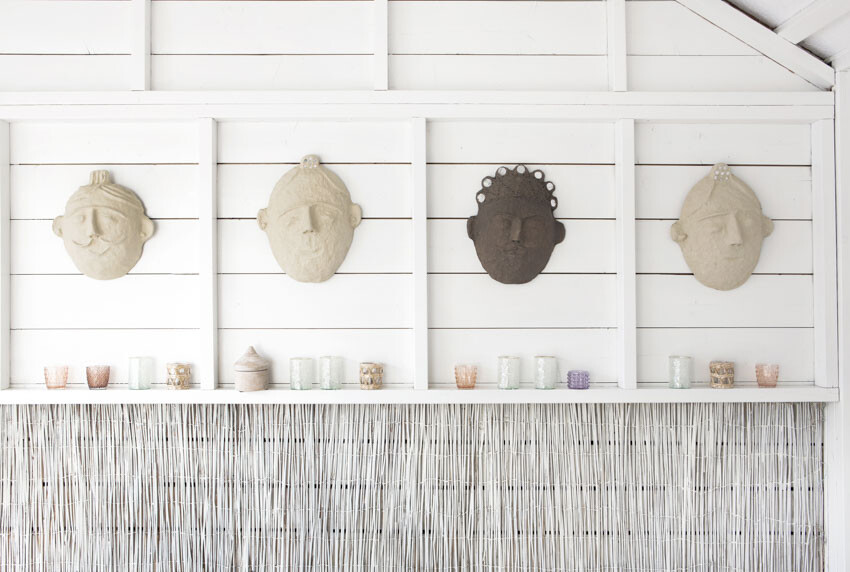 Nobody's perfect
Look at them hanging on the wall. Every mask with its own face. Far from perfect but exceptionally good as decorative touches. What is perfection, actually? Isn't it precisely in the imperfection that perfection is found?
In Japan, they call it Wabi-Sabi. This is something that you feel but that can be difficult to describe. An interior without rules. You can best describe it as the beauty or art of imperfection. Seeing that things are beautiful as they are.
You often find that in our range. A great many of our products are handmade. As a result, each item in a series is just a bit different. And that is what gives the products charm and exclusivity. A unique touch in your interior.
An interior only comes to life when you have lived 'in' it for a while. It shapes itself around your life, in both practical and aesthetic terms.
Thrilled with the key to our new house, I dove, six years ago now, into the renovation and furnishings. My head was full of beautiful ideas. And I could picture us moving through the house.
After two months of renovations and shopping for beautiful things, the picture in my head had become reality. But I couldn't yet 'feel' it. That was strange.
After some time, I let go of the aesthetic a bit, and the four of us became comfortable living in the house. It started to feel more like a favourite old jacket.
Over the past six years, of course, a great deal has been shifted, things have been removed and new things have been added. And in that process, the house has become part of our family.
With the junk rooms, drawers, the creaking and somewhat worn staircase, frills and different colours on the wall. A house with a soul. From sleek and well planned to warm and our very own.
Goround has certainly played a role in that transformation. I'm incredibly happy with the masks on the wall, but the Whistleton tapestry has also found a lovely place on the wall, playing nicely off the Nicola rug.
All handmade interior accessories with a soul. And you feel that.
Have a lovely day!
Jojanneke
Team Goround